Have you ever wondered what keeps the waste from seeping into the soil at landfills? Or what keeps the drinking water clean at reservoirs? Thanks to companies that install lining systems in these kinds of containments, our environment is protected—and all of us who live in it.
Hallaton Environmental Linings, Inc., based in Sparks, Maryland, specializes in installing these lining systems. They needed a way to show their audience the details of their work, instead of just telling them about it. One of their challenges was collaborating with engineers who rarely came onsite to understand the nuances of their work. Another challenge was helping clients understand how Hallaton's expertise distinguishes them from other environmental lining installers.
Big Screen Media for Big Impact
To fully demonstrate Hallaton's skillful work, we used a combination of photography and videography:
Still photography
Steadicam video
Drone video & photography
360 video camera
The videos provided Hallaton with benefits like these:
Developing rapport
We featured different Hallaton personnel in the videos. As you see key staff at the jobsite and hear them talk about it in their own voice, the projects and company come to life. This personal approach helps Hallaton build credibility with their audience.
Bringing customers into inaccessible places.
It's not always easy to bring clients into a live construction site. And once Hallaton's lining systems have been covered by waste, soil, or water, you can't see their work anymore. So we rolled the cameras as Hallaton rolled out their liners, capturing their work while it was still visible. This enables Hallaton to showcase their expertise at anytime to anyone.
Showing a bigger perspective.
Hallaton's jobsites can be as expansive as 15–40 acres. Properly showing such an expanse is challenging, or sometimes impossible, using a conventional camera. By using a drone we revealed the full breadth of their projects. We also added overlaying labels to educate the audience about the entire lining installation process in a single view. Hallaton now has assets that demonstrate their scope of work, in ways that only aerial footage can provide.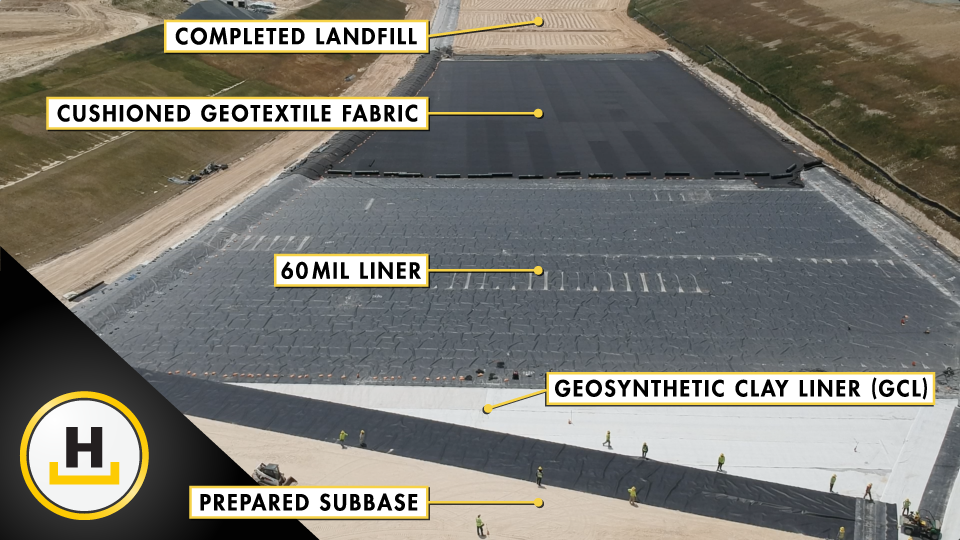 Get Rolling
Now Hallaton has videos they can show to their engineers, collaborators, and customers that demonstrate exactly how lining systems get installed in the field. These videos provide the attention to detail that sets Hallaton apart from their competitors.